Strongsville's Premier Laser Therapy Center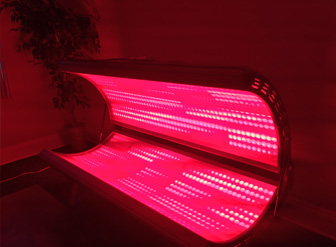 Laser Therapy Cleveland™ specializes in laser therapy (low-level laser/light therapy) for those in the Strongsville area suffering from acute or chronic pain. At Laser Therapy Cleveland™, we offer people of all ages a better treatment method for healing from injury and a superior solution to pain management. We use non-invasive, safe, pain-free, drug-free, effective treatments to help our patients achieve their health and wellness goals.
Cold laser therapy, or low-level laser/light therapy (LLLT), can effectively treat many arthritic, muscular, skeletal and neurological conditions by reducing inflammation, stimulating the repair of tissue, and providing pain relief for those suffering from acute or chronic pain. Focusing on the wellness goals of our patients, we have successfully treated them for a variety of medical issues. Take the first step to a healthier you with laser therapy!
Why Choose Us?
Laser Therapy Cleveland™ is the only local laser therapy center dedicated to improving your quality of life without surgery or prescription drugs. We continually invest in our equipment and education so you get the best, most up-to-date treatments with state-of-the-art technologies. We are able to spot-treat injuries using a hand-held device or, we can treat your entire body using our Wellness Pod. To see if laser treatment is right for you, call us today for a free consultation and a free session in our Wellness Pod. Experience first-hand, how easy it is to live pain-free!
Alternative, Drug-Free Pain Management Solutions: Laser Therapy in Strongsville, OH
Chronic pain places an enormous burden on our society and countless treatments have been proposed for it. The best among these is cold laser therapy. Cold laser therapy, or LLLT, uses red to infrared wavelengths of light to stimulate cell growth, block pain signals, and control inflammation - providing a safe, drug-free and non-invasive alternative pain management and healing plan for many arthritic, muscular, skeletal and neurological conditions. Its uses include:
General
Post-Surgery Healing
Swelling (Lymphedema)
Sports Injuries
Allergies
Migraine Headaches
Tension Headaches
Dental and Orthodontics
Age Related Macular Degeneration
Soft Tissue
Sprains
Strains
Ligaments
Tendonitis
Swelling (Lymphedema)
Contusion (Bruising)
Tennis Elbow
Golfer's Elbow
Plantar Fasciitis
Trigger Finger
Joints
Arthritis
Joint Stiffness
Joint Pain
Knee Pain
Hip
Wrist and Hand
Foot and Ankle
Shoulder
TMJD
Rheumatoid Arthritis
Elbow
Bursitis
Muscular
Fibromyalgia
Muscle Injuries
Shoulder
Forearm/Upper Arm
Thigh
Lower Leg
Skeletal
Bone Fracture
Back and Neck
Ribs
Hands
Feet
Skull
Neurological
Nerve Pain/Neuralgia
Carpal Tunnel
Sciatica
Shingles Pain
Orofacial Pain
Trigeminal Neuralgia
Tinnitus
Neuropathy
Concussion (Traumatic Brain Injury)
Skin
Wound Healing
Lesions
Bruises
Psoriasis
Gout
Oral Mucositis
Diabetic Ulcer
Acne
Our Wellness Pod Provides Whole-Body Light Therapy to Help You Meet Your Wellness Goals!
The Wellness Pod is a full body, FDA approved, light-emitting diode (or LED) device that emits red and infrared light at specific wavelengths to stimulate and improve cellular functions in the body.
Our Wellness Pod is one of the very first full-body LED devices manufactured by Thor in the world! The Wellness Pod is built on a tanning bed platform but without any of the harmful ultraviolet light. The Wellness Pod contains 3,600 individual red and infrared diodes!
Regular use of the Wellness Pod has shown to promote and/or contribute to the following:
Recovery From Acute Injuries
Reduced Inflammation, Stiffness and Pain
Stimulate Cell Repair and Function
Increased Circulation
Wound Healing
Improvement in Skin Conditions
Effective Burn Treatment
Fat Loss
Improved Lipid Profile
Treatment for Fibromyalgia
Lymph Drainage (Reduce Swelling)
Improved Immune System
Improved Muscle Repair and Recovery
Improved Muscle Strength and Development
Elevated Moods (Aids Depression Symptoms)
Preventative Skin Conditioning (Sunburn Protection)
Hear how our patients are benefitting from laser therapy!
"I have had cold laser therapy for multiple issues over the years...shoulder issues, wrist injuries, elbow pain, cold sores and even to treat allergies. I also use the Wellness Pod weekly for general wellness and because I find it relaxing and calming. I suffer from seasonal affective disorder (or the winter blues) and my time in the Wellness Pod definitely makes getting through the winter a whole lot better." - S.D. from Strongsville, OH
"I come to Laser Therapy Cleveland™ for treatment of my sciatica. My sciatica pain has bothered me for years, but I am finally getting relief from the pain and discomfort I've had in my right leg. I am very happy to have discovered this treatment. I've been telling all of my friends about it." - B.D. from North Olmsted, OH
---
For more information on our Wellness Pod or treatment for your condition, call us at (330) 273-7355 today or fill out our online form.