Alternative Brain Injury & Concussion Treatment in North Royalton, OH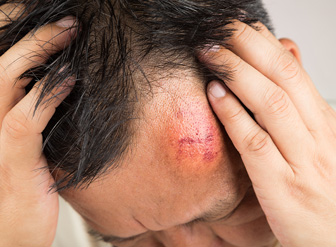 Laser Therapy Cleveland™ offers low-level light therapy (cold lasers) and light-emitting diodes (LEDs) for those in the North Royalton area suffering from concussions and brain injuries. Laser Therapy Cleveland™ is the only local laser therapy center dedicated to improving your quality of life without surgery or prescription drugs. Our low-level laser therapy has been clinically proven to reduce inflammation, relieve pain and ignite the healing process without harmful side effects.
The current recommended treatment for a diagnosed concussion is weeks or months of physical and cognitive rest. We use our low-level laser/light therapy (LLLT) to treat concussion patients by reducing brain inflammation and swelling; improving blood flow and cellular function; and healing the brain quicker. We continually invest in our equipment and education so you get the best, most up-to-date treatments with state-of-the-art technologies.
What is Low-Level Laser/Light Therapy (LLLT) and How Does it Work?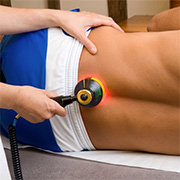 Low-level laser/light therapy (LLLT) is the anatomical application of red and near infrared light through the use of a cold laser or light-emitting diode (LED) device to either stimulate or inhibit cellular function. Lasers and LEDs can be used to stimulate and improve cellular functions in the body that repair tissue, reduce inflammation and transmit pain. Lasers and LEDs produce intense beams of light at specific wavelengths. By applying the right wavelength, at the right intensity, for the right amount of time you can stimulate repair, resolve inflammation, and reduce pain.
Laser Therapy in the North Royalton Area for Concussions and Brain Injuries
A concussion is a traumatic brain injury that alters the way the brain functions. Although concussions usually are caused by trauma to the head, they can also occur when the head and/or upper body are violently or forcefully shaken. A concussion is a serious concern for professional and amateur athletes alike. However, concussions are not limited to just athletes. People can suffer concussions as a result of a motor vehicle accident, pedestrian or bicycle accident, workplace accident, physical altercation, a fall, combat, physical abuse, self-injury, etc.
Currently, the recommended treatment for a diagnosed concussion is usually weeks (even months) of physical and cognitive rest until the post-concussion symptoms subside. While recovering from a concussion a person may suffer from one or more symptoms such as headaches, drowsiness, vomiting, confused or irritable behavior, seizures, weakness, numbness, slurred speech and other cognitive issues.
Here is Where We Can Help!
Our low-level light therapies utilize both low-level lasers (cold lasers) and light-emitting diodes (LEDs) in a delivered treatment that is non-invasive, painless, drug-free, safe and highly effective.
LLLT can be used to help the brain heal quicker and in a less debilitating manner than the traditional method of treatment. LLLT improves overall brain function following a concussion by reducing inflammation and improving cell function and blood flow.
Free Treatment for Student Athletes Suffering From Concussion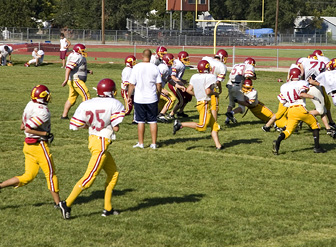 Laser Therapy Cleveland™ also offers a special program for any student athlete suffering a concussion as a result of their involvement in scholastic sports at the high school and junior high school levels.
As a respected cold laser Pain Management and Healing Center, we cannot pass up the opportunity to try and make a difference in the community and the lives of our affected student athletes.
Therefore, we are offering the first two (2) weeks of treatment for free to any high school or junior high school student athlete suffering a concussion as a direct result of being involved in a scholastic sporting event. Please contact us if you have questions, or to learn more about this program.
Hear directly from our patients!
"I have been dealing with neuropathy for decades. When I read about Laser therapy Cleveland™ I wanted to see if they could help me with the pain and numbness associated with my condition. After my first month of treatments, I could tell the treatments were working. My pain levels were improving, as well as the numbness." E.B. from Medina, OH
---
For more information on treatment for your condition, call us at (330) 273-7355 today or fill out our online form.